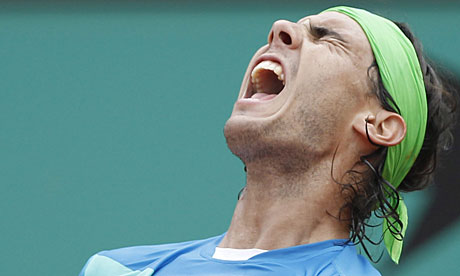 The Luniz'
"I got 5 on it"
is a song Rafa Nadal can now happily sing to his hearts content. In 2 hours 18 minutes, Rafa finished off spirited Robin Soderling 6-4 6-2 6-4 in the French Open Mens Final to win his 5th French Open title. This wasn't just a win, this was an '
ooohh
' kind of match where Rafa reintroduced himself as simply supreme in a final on the Philippe Chatrier court.
Everything he needed to do to counter the weapons of Soderling worked well. Shots had consistent depth, backhand slice on fire, the down the line shot worked more than not and he held a healthy first serve percentage.
Soderling made too many unforced errors to winners, his first serve was unreliable and understandably was frustrated that even when he hit his hardest, flattest shot, the damn ball kept coming back. This was
Nadal Befuddlement
at its greatest. The longer this continued, the more assured Nadal became and the more inevitable the result became. This was a competitive match up that lost
its teeth as Soderling was unable to take any of his break opportunities while Nadal ravished his. Small but telling differences.
The next best thing to see/hear from this match? Rafa speaking some French in his celebratory speech.
Who knew?!
Not only is Nadal the Champion at Roland Garros again, but as of Monday he jumps Roger Federer as world no. 1.
Congratulations Rafa- Bravo!
(c) images Associated Press 6.6.10